Deep Woods Camouflage Stencil
You can use this large-format Camo stencil for creating patterns on trucks, boats, wood surfaces, duck blinds, deer blinds, walls, floors and fabrics. The paint can be applied through the stencil with camo spray paint (available at most hardware stores) or liquid paints using our high density foam rollers. Boats should be painted with specialty marine camo paints (such as
Pettit Z*Spar
) while walls can be painted with interior paints. The camo stencil design repeats in all directions allowing you to customize any size project. Quickly and easily create a camouflaged surface with our camo stencils! You can place your order online right now or call us today - our operators are standing by at (800) 334-1776!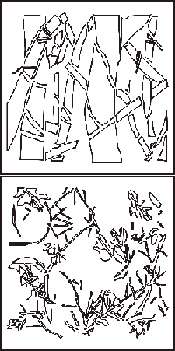 The basic kit contains: 2 - 19.5" x 19.5" Stencil Sheet
You can also order the stencil in a 40" x 40" size (comes with two 48"x48" sheets)- shown as Production Stencil 4 full repeats or 40" x 80" size (comes with two 48"x96" sheets) - shows as Production Stencil 8 full repeats.
If you are camo stenciling on an outdoor surface, you should not use acrylic paint.
We now have this stencil as a Production stencils with more 4 repeats on 1 stencil #SCM0006-4. The 4 repeat stencils are non-returnable and all sales are final. Click here for more camo patterns